Hanoi Meeting Veterans by Motorbike or Jeep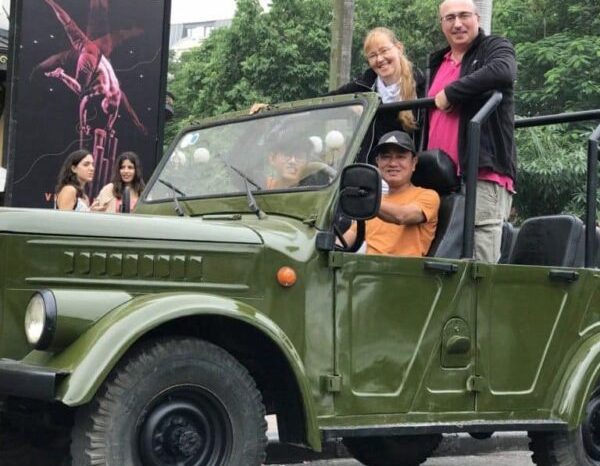 Hanoi Meeting Veterans by Motorbike or Jeep
Our knowledgeable local guide will provide you with a personal touch and local cuisine, as well as local culture from the famed Gaz69 and a vintage Minsk motorcycle. You've probably heard of the Vietnam War, which was one of the most well-known wars in history and was widely covered in every major newspaper in the 1960s. This is for those who want to travel back in time and meet military veterans to learn about their lives during the war,...
Price from : 100 USD
Book now
TIME DEPARTURES:
MORNING: 08:00 – 12:00
AFTERNOON: 12:30 – 16:30
EVENING: 17:00 – 21:30.
Detailed Itinerary
Our experienced guide will pick you up from your hotel and give you a brief tour introduction for a 100%-happy-trip then we will start our adventure.
Meet and converse with a veteran:
We'll explore a maze of alleyways known only to locals. Learn about the complicated Vietnam War from a Vietnamese soldier who was deployed to fight for our country, as well as the behind-the-scenes stories.
We will be able to visit some very unique locations in and around Hanoi.
French Quarter & Old Quarter:
Hanoi is known as "Little Paris" because, in the late 1800s, the French demolished old Vietnamese structures and replaced them with imposing French-style villas. We'll ride past the Opera House, the Long Bien Bridge, the Presidential Palace, and the Ho Chi Minh Mausoleum…
The Island of the Middle:
The island has been produced by the warp, offering shelter for numerous fishermen, thanks to the amount of Red River's water. This is the riddle of the city, where there is no source of electricity or water. As a resident of Hanoi, you will encounter actual unexpected life.
Aside from the thrilling trip through Hanoi traffic, we will also introduce you to real Hanoian cuisine. "SPARE US YOUR HUNGRY BELLY" please (vegan and vegetarian options are available).
Price: from 100USD/person
Included:
Traditional home-hosted supper with a local Hanoian family;
Experience Tour Guide & Driver;
Minsk motorbike or Gaz69 Jeep;
Pick-up and drop-off services are available.
Exclusion
Tips & personal expenses.